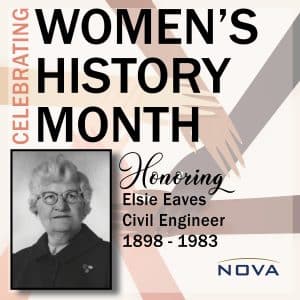 March 13, 2023
This week we'd like to highlight the impressive accomplishments of Elsie Eaves, a pioneering female engineer. In 1918, Eaves was elected as the first female president of the University of Colorado's engineering society, the Combined Engineers. At the age of 22, she graduated and became the University's first woman to earn a degree in civil engineering. After graduating, she worked for the U.S. Bureau of Public Roads, the Colorado State Highway Department, as well as the Denver and Rio Grande Railroad.
In 1927, Elsie became the first woman to be a full member of the American Society of Civil Engineers (ASCE). Around this time, Elsie began making the most of her engineering education. She decided to make a shift in her career and joined the Engineering and News-Record (ENR) as an assistant manager for market surveys. She eventually became the manager of the Construction Economics department at ENR. While in this position, she organized and directed ENR's measurement of "Post War Planning" in the construction industry. This data was used by ASCE and the Committee of Economic Development to decide and estimate what work could go forward promptly when World War II ended. She then converted the data into the first continuous database of construction in the planning stages. In total, she was associated with ENR for 37 years.
She retired in 1963 but continued practicing as an adviser to the National Commission on Urban Affairs on the subject of housing costs. She was honored with the Fellow award at the 1980 Society of Women Engineers National Convention Conference in Cherry Hill, New Jersey. She had been a member of this organization since 1950.
Eaves was considered a role model for young women interested in engineering. We are delighted to spotlight her accomplishments and all the many "firsts" she achieved throughout her life.
Sources: Engineergirl.org; En.Wikipedia.org; Alltogether.swe.org