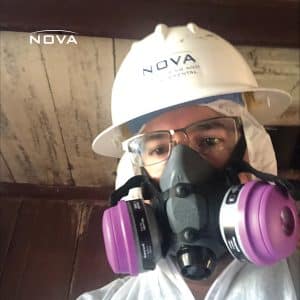 November 29, 2022
A pre-demolition asbestos survey is a very comprehensive asbestos-containing material (ACM) assessment. This type of survey inspects components of an entire building, including interior and exterior building materials, utilizing destructive sampling protocols. A demolition survey requires the destruction of small sections of a building to discover ACM behind the walls, floors, or other hard-to-reach areas.  A pre-demolition inspection can assist with identifying environmental issues that need to be addressed immediately.
An asbestos survey is a worthwhile investment to protect potential harm to human life and ensure a successful transaction across all types of commercial and multifamily real estate. It is critical to engage a team of certified professionals that stay current with state, local, and federal regulations and certification requirements. This is where NOVA can provide solutions to our client's needs while maintaining safe environments, staying on schedule, and helping control costs.
NOVA's Project Scientist, Mark Bottorff, recently put his crucial skills to work during a pre-demolition asbestos survey on a residential structure in Sarasota County, Florida. Mark is pictured here during a pre-work walk-through of the structure to identify materials and/or unsafe conditions. The building had been unoccupied for a long time prior to Hurricane Ian and was in disrepair. In careful preparation for this inspection, Mark donned a full Tyvek-type suit (a suit made of versatile material that is both durable and comfortable, providing an excellent barrier against dangerous fine particles and chemicals, a half-face respirator with P100 and organic vapor (OV) double-stacked cartridges, steel toe, and steel shank boots, a hard hat, and glasses. No vest was worn due to possible contamination of unknown materials.
When asbestos-containing materials (ACM) are damaged, as with the demolishment of a building or structure, asbestos fibers can be released into the air presenting many health risks to building occupants or workers from exposure or inhalation. NOVA is here to help its clients with these types of services, while always adhering to the safety of its clients and employees.