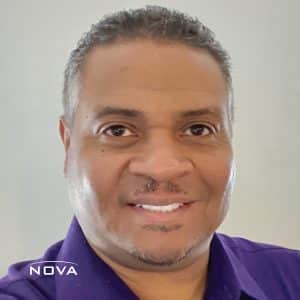 January 16, 2023
Please join us in congratulating Patrick Cornelius on becoming part of the NOVA family. Patrick will serve the role as IT Manager based in our Kennesaw, Georgia Office. Patrick brings an impressive history of experience and skillsets to our company. We are excited to have him join our team.
Patrick attended the University of Phoenix where he earned a Bachelor of Science degree in Criminal Justice Administration with an emphasis on Information Technology and Systems Security. With 22 years in Information Technology, Patrick has served in various IT roles ranging from Computer Support Specialist to Systems Administrator to IT Manager.
 Patrick is originally from Michigan and following graduation from high school, he joined the military where he served 12 years in the United States Army becoming a Non-Commissioned Officer. Throughout his tenure in the military, he was based in several locations throughout the U.S. and Germany. Patrick and his wife, Angela, have three children: their daughter Saadja (15), their daughter Karlei (14), and their son David (9) and 3 adult children. Patrick enjoys spending time with family and friends, being a little league coach for his son's basketball team, and playing golf, and drums.
 If you'd like to reach out to Patrick, he can be reached at 770-309-3877 or pcornelius@usanova.com.