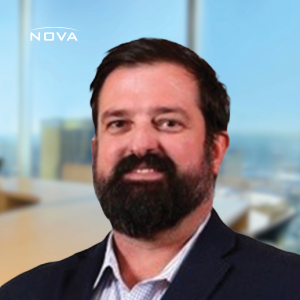 September 25, 2023
We are thrilled to announce Adam Marr, PE is joining NOVA as the newest addition to the Kennesaw, Georgia office. Adam will serve as Vice President and Georgia Regional Manager as he brings a wealth of experience and passion to our industry. His skills and expertise will be invaluable as we continue to expand our reach and reputation as a leader in the testing, inspection, and consulting fields with a strong legacy of quality and integrity.
Adam brings over 20 years of experience in operations management, strategic planning, talent development, and employee engagement. He is a dedicated and driven leader with a passion for building highly functional teams and leading through change. He has served in many roles ranging from Area Operations Manager and Branch Manager to Project Manager and Staff Engineer. He has also managed geotechnical engineering and construction materials testing projects of all sizes from client selection and proposal writing to execution and reporting.
While he originally hails from the foothills of East Tennessee, Adam, his wife, teenage daughters and their husky kitty have called Atlanta home since 1999. He's a proud Vanderbilt alum and avid fan of all their sports teams – in addition to the Falcons, Braves, and Hawks. He enjoys fishing, or just the experience of being out on the water, even when nothing is biting. An interesting fact about Adam is he used to cook in BBQ competitions with his brother. Their team's name was MarrBQ and they actually celebrated some top ten competition finishes in the professional ranks around Atlanta!
Please join us in giving Adam a warm welcome to the NOVA family. We look forward to working together and achieving great success as a team.
If you would like to contact Adam, he may be reached at 404.304.9101 or amarr@usanova.com.