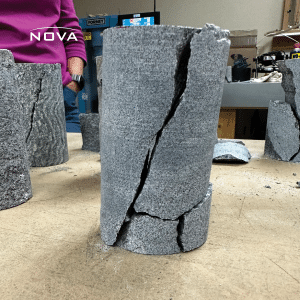 July 12, 2023
Take a look behind the scenes in one of NOVA's accredited testing laboratories to see why we're putting these rocks to the test! Featured in this photo, NOVA's Kennesaw, GA laboratory is currently testing rock for Compressive Strength, Modulus of Elasticity and Poisson's Ratio. Rock testing involves the  process of evaluating the mechanical properties and behavior of rock samples, including strength, elasticity, durability, and deformation characteristics. Rock testing is conducted to identify how they will behave under various conditions, such as construction projects or natural geological processes. There are many different types of testing that can be performed, as well as the type of equipment that can be utilized to conduct these tests.
Why is testing important? Testing provides essential information for the safe and efficient design and construction of structures and natural hazard mitigation. The knowledge obtained from rock testing helps ensure the safety of construction workers and the general public, while minimizing the environmental impact of construction activities.
The benefits of rock testing is plentiful. Rock testing can help engineers design structures such as foundations, tunnels, and dams with greater accuracy and stability. Testing can help identify potential hazards, such as unstable rock formations. Testing can also provide improved natural hazard assessment involving landslides, rockfall or earthquakes. Understanding the rock behaviors can assist engineers with identifying potential instability and design appropriate to assist with mitigation measures.
Photo credit: Stacy Hewitt, Marketing Coordinator, Kennesaw, GA Office