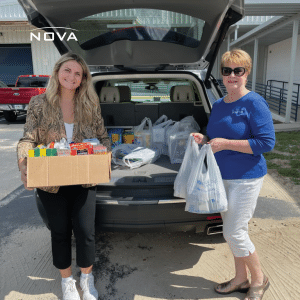 August 9, 2023
NOVA's Inaugural Backpack Campaign continues to make a difference as the Panama City Beach office steps up to the plate to help children in the local community start off well prepared for this school year!
The Panama City Beach office staff were excited to support this initiative by donating much needed schools supplies to support NOVA's Inaugural Backpack Campaign. Some opened their hearts (and wallets) by making cash donations, which allowed our staff to go shop for even more supplies!
After the collection period ended, NOVA's Business Development Associate, Ann Scruggs, gladly delivered the goods. Bay District Schools, headquartered in Panama City, Florida, was chosen as the recipient of these heartfelt donations. The school supplies were then distributed to a school most in need. NOVA later received the response on how appreciative the teachers were of the donation and what an impact it made for them and their students. It's the little things we do for others that mean a lot: small gesture = big impact.