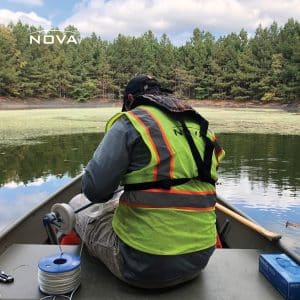 November 23, 2022
NOVA employs a highly qualified professional team of environmental engineers, geologists, hydrogeologists, scientists, industrial hygienists, and regulatory specialists who are experts in critical areas for adherence to industry standards and federal and state regulations. These standards and regulations serve to protect the environment.
On a daily basis, NOVA performs many crucial environmental consulting and testing services to keep our communities safe. Check out Project Geologist, Nathan Parker, from our Kennesaw Georgia office in action. Think this is just another day of going fishing? Think again. Nathan is featured in this photo performing sampling in association with the closure of a wastewater pond.
The scope of this project involved collecting samples from a wastewater pond at the surface level, the deepest point, and lastly from the sludge at the bottom of the pond. After collection, water samples from the surface and deepest points were transported back to a laboratory for detailed analyses. Water level measurements and pond diameter measurements were performed to approximate the overall capacity of the wastewater pond for disposal purposes.
A wastewater pond is a nutrient-enriched complex ecosystem. Bacteria and other microorganisms consume oxygen as they feed on sewage components and give off carbon dioxide used by algae. Unlike other ponds, a wastewater pond's water should be green, because microscopic plants (algae) produce much of the needed oxygen.
To learn more about NOVA's extensive and unique line of services, check us out usanova.com.