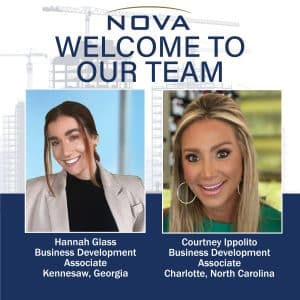 February 15, 2023
Our business development team is excited to welcome and introduce its two newest Business Development Associates. Say hello to Hannah Glass and Courtney Ippolito!
Hannah Glass joins the NOVA team as a business development associate, based in NOVA's Kennesaw, Georgia Office, specializing in the k-12 sector.
Hannah attended Kennesaw State University where she earned a Bachelor of Business Administration in Marketing and was involved in the American Marketing Association. She went on to work in the commercial flooring world as a marketing coordinator where she found a passion for the AEC industry and developed her business development skills and connections within the industry.
In her spare time, she loves being with her family, spending time with her dog, Millie, and hiking every trail she can find! Hannah is thrilled to join the NOVA team and professes, "I can't wait to continue to learn and grow with everyone here."
Courtney Ippolito joins the business development team, based in NOVA's Charlotte, North Carolina Office.
Courtney has been involved in the AEC industry over 2 years and spent almost 15 years in marketing. Courtney has found success in a variety of industries across her career including the art space and the fashion world prior to getting bit by the AEC bug.  Courtney's strength and main focus regardless of the industry is building and cultivating relationships.  The unique perspective she brings to the AEC world is refreshing and a credit to her success in the industry.  She always brings kindness and a smile to a conversation.
When she isn't networking or connecting, Courtney can be found doing Pilates or yoga and scoping out a new restaurant, café, concert or art exhibit. She can often be spotted around town with her four legged sidekick, Leonidas, also known as Leo.
From day one, these two ladies have hit the ground running in their new roles –  meeting not only clients but fellow NOVA peers and forming key connections and relationships.
Please join us in welcoming them to NOVA!
If you'd like to contact Hannah, she can be reached at 770.658.4800 or hglass@usanova.com.
If you'd like to contact Courtney, she can be reached at 504-338-9167 or cippilito@usanova.com.