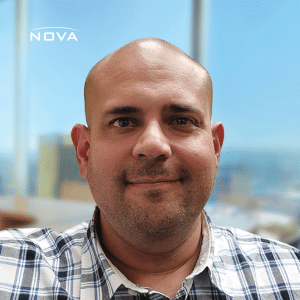 May 30, 2023
We are excited to share the announcement of our newest team member, Manuel Tovar, CPI who is joining our Facilities and Building Envelope Team as Business Unit Manager based out of NOVA's Kennesaw, Georgia office.
Manuel has over 18 years of experience in the industry. While working in the construction industry, he has acquired extensive skills in the areas of architectural design, building envelope, glass and glazing construction management, and waterproofing consulting. Manuel will be responsible for planning, assisting, and supporting our Building Envelope segment of NOVA while developing new strategies and ensuring all projects are brought to completion within a scheduled time frame. He is experienced in analyzing and exploring market trends to help identify new opportunities within the region. He emphasizes his efforts on coordinating and collaborating with all members on the jobsite by demonstrating excellent communication and teamwork skills.
Manuel obtained both his B.A. degree in Architecture and his M.A. degree in Design Management/Product Development from Jorge Tadeo Lozano University. He maintains BEC 2 Certification from the Building Envelope Science Institute (BESI), is a certified Commercial and Residential Home Inspector, and carries numerous other certifications that are advantageous to his respective field.
In Manuel's spare time, he enjoys playing pickleball, table tennis, watching his daughter perform figure skating, and riding his motorcycle.
Please join us in congratulating Manuel on joining our NOVA family!
If you'd like to contact Manuel, he may be reached at  786-718-7690 or mtovar@usanova.com.