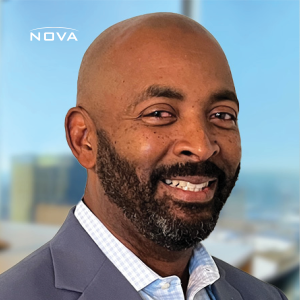 September 7, 2023
We are happy to introduce our newest team member, Cornelius Benton, who is joining our Ft. Lauderdale office and serving the role of Branch Manager.
Cornelius brings over 25 years of experience in the construction industry which will play a pivotal role in assisting with NOVA's growth and success. His previous responsibilities included overall operations and business development for a varied scope of services including concrete repair, structural strengthening, corrosion protection, post tension repair, coatings and waterproofing. He has implemented strategic plans, while also overseeing and directing future regional staff to ensure successful operations. In addition, he has experience in developing, maintaining, and expanding business relationships with transportation owners, engineers, and contractor accounts, which will serve as an extremely valued asset to NOVA.
Cornelius's educational credentials and certifications also serve as valued strengths to this job role. He obtained his Bachelor of Arts degree in Economics and Marketing from the University of Connecticut, located in Storrs, CT. He is also a state certified building contractor and real estate broker.
During his personal time, you can catch Cornelius on the golf course working to perfect his game. He claims his skills are not up to par, however we find that hard to believe considering his athletic background. Cornelius was an NFL quarterback draft pick for the NFL Pittsburgh Steelers. Although he may not be on the football field at NOVA, we know he'll lead our team to some wins in the future!
If you would like to contact Cornelius, he may be reached at 561.897.1484 or cbenton@usanova.com.