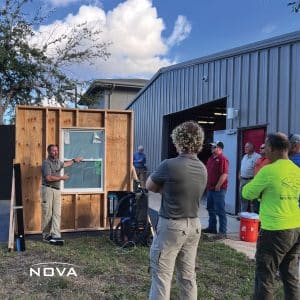 January 17, 2023
NOVA's Facilities and Building Envelope Florida experts recently completed an extensive training event for our colleagues at Wharton-Smith, Inc. Construction Group. The training centered around various hands-on applications, simulations of building envelope-related testing, as well as valuable "lessons learned" topics.
NOVA's staff performed multiple testing simulations utilizing a mock-up built by Doug Whisler, Superintendent at Wharton-Smith. The following American Society for Testing and Materials (ASTM) test procedures were conducted: ASTM E1105 (Field Determination of Water Penetration of Installed Exterior Windows, Skylights, Doors, and Curtain Walls), AAMA 501.2 (Quality Assurance Diagnostic Water Leakage Field Check of Installed Storefronts, Curtain Walls, and Sloped Glazing Systems), ASTM E1186 (Standard Reference Radiographs for Heavy-Walled Steel Castings), as well as ASTM D4541 (Standard Test Method for Pull-Off Strength of Coatings Using Portable Adhesion Testers). Rilem Tube testing, ASTM E779 (Standard Test Method for Determining Air Leakage Rate by Fan Pressurization), Infrared Thermography, and Ground Penetrating Radar (GPR) were also demonstrated. A variety of equipment was displayed allowing participants to take their hands-on experience to a higher level, prompting questions and conversations about proper usage methods and best safety practices.
We'd like to thank Wharton-Smith for extending the invitation to NOVA. We'd also like to give a shout-out to Jim Keeney, Desiré Mahanna, Gary Yaeger, Brandon Mahanna, and Jacob McAdams for taking the time to share your expertise.