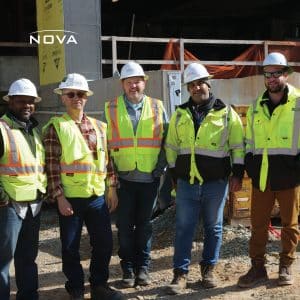 February 27, 2023
Nothing is more gratifying than seeing the fruits of one's labor and NOVA's Raleigh, North Carolina staff experienced just that! The team recently joined in on celebrating the 'topping out' event at the 400H mixed-use development in Downtown Raleigh. Topping out is a long-standing tradition in the construction industry where the team players come together to commemorate the milestone that is completion of a building's structure.
400H will offer 20 stories of inspiring workspaces, generous amenities, thoughtful residential designs, and retail experiences. In the heart of Downtown Raleigh, 400H will provide premier experiences in employment, entertainment, and residential living. The prominent tower will boast 15,000 sq ft of ground-level retail, 242 luxury apartment units, 10,000 sq ft of indoor and outdoor office amenities, and 150,000 sq ft of office space. The structure is framed with post-tensioned concrete decks and is supported by Continuous Flight Auger (CFA) pile foundations.
NOVA provided services on the project including geotechnical engineering, construction materials testing / special inspections, and building envelope consulting / testing. Additionally, NOVA provided preconstruction property condition surveys for adjacent properties that included a parking deck and two structures on the National Historic Register.
Congratulations to NOVA and the entire development, design, and construction team on successfully reaching the high point for the project. We tip our hats off to you!
Featured left to right (Glaston Jones, Samir Ibrahim, Steve Bryant, Wael Bida, and Thomas Bartlett)