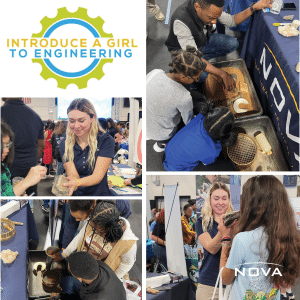 April 17, 2023
NOVA had an incredible time attending "Introduce to a Girl to Engineering Day" recently held at the Marietta Campus of Kennesaw State University. This half-day program, hosted by the American Council of Engineering Companies of Georgia (ACEC),  allows girls in upper elementary and middle school to participate in fun hands-on projects and activities. This event offers girls who are interested in STEM the occasion to explore and witness first-hand all the exciting opportunities that are at their fingertips.
NOVA's staff, Usenmfon Udo and Allison Hackleman, attended the event and offered interactive displays showcasing soil and rock mechanics. This gave inquiring minds the opportunity to see a small portion of what goes on behind the scenes of geotechnical engineering. All attendees had the opportunity to visit booth sponsors to participate in activities, they enjoyed an engineering team trivia bowl, and parents were invited to join in on a Q&A session that provided tips on how to prepare their child for an education in engineering. We had a blast meeting all the girls and parents that visited our booth!
Having the chance to empower girls with knowledge and confidence in STEM during this event was priceless for NOVA. These girls have every opportunity to become future problem solvers and leaders in our community. We appreciated having this opportunity to fuel the spark in them and applaud them for joining in on such a worthwhile event.