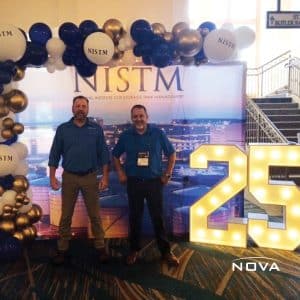 April 20, 2023
NOVA staff members, Chuck Pennington, Chuck Smith, and Steve Goudie recently attended NISTM's 25th Annual Aboveground Storage Tank Conference and Trade Show in Orlando, Florida. Founded in 1989, The National Institute for Storage Tank Management (NISTM) is an organization that provides educational opportunities, resources, and training seminars about the operation, regulation, and management of Underground and Aboveground storage tank systems. The Annual International AST and UST conference is designed for engineers, managers, or other individuals involved with operation, construction, environmental compliance, spill prevention, or response. This includes management activities associated with above and underground tanks.
As part of NOVA's wide array of non-destructive testing services, we offer certified API 653 Aboveground Storage Tank Inspections. NOVA's non-destructive testing team is comprised of qualified and skilled inspectors with the experience and certifications to serve our clients in a wide range of industries such as: mechanical, structural steel, pharmaceutical, pulp and paper, petro-chemical, transportation , power generation, infrastructure, manufacturing, commercial buildings, and above ground storage tanks.
Many thanks to our NOVA staff who attended this event and for representing NOVA so well. The conference was very informative and beneficial for engaging and sustaining some meaningful relationships for many years to come.