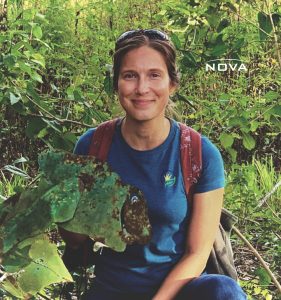 January 14, 2022
We are taking our environmental capabilities to a whole new level! Sarah Battaglia, MA, RPA has joined our Florida Panhandle team as our first Archaeologist on staff.  Welcome!
Sarah spent her college years studying Anthropology and Archaeology at the University of West Florida where she earned her Bachelor's in 2003 and a Master's in 2008.  She brings 13 years of experience in the construction industry, specifically in the environmental consulting sector.
Her career led her to a site in Pensacola that spoke to her soul.  After completing the archaeological and environmental investigation in an area once occupied by a late 19th century family, Sarah put pen to paper and began writing a book about her research and findings.  While not yet complete, this book promises to tell an amazing story.
Whether you find old graveyards spooky or serene – Sarah finds them intriguing.  Cemeteries in Northwest Florida are some of her favorite hangouts as she enjoys photographically documenting gravesites.  Very cool, Sarah.
As you can see, Sarah has some really interesting hobbies. Above all others, her favorite moments are spent with her son.  Naturally, they enjoy all things done outdoors such as camping and hiking.
Warmest of welcomes to you, Sarah!  Feel free to contact her at 850.380.0328 or sbattaglia@usanova.com.