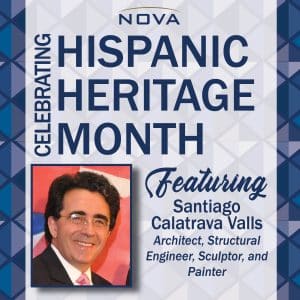 September 22, 2023
Hispanic Heritage Month (HHM) takes place September 15 to October 15 every year as a time to recognize and celebrate the many contributions, diverse cultures, and extensive histories of the American Latino community. This week, we're featuring the remarkable work performed by Santiago Calatrava Valls.
Santiago Calatrava Valls (Born July 28, 1951), is a Spanish architect, structural engineer, sculptor and painter, known for his bridges supported by single leaning pylons, his railway stations, stadiums, and museums, whose sculptural forms often resemble living organisms. His best-known works include the Olympic Sports Complex of Athens, the Milwaukee Art Museum, the Turning Torso tower in Malmö, Sweden, the World Trade Center Transportation Hub in New York City, the Auditorio de Tenerife in Santa Cruz de Tenerife, the Margaret Hunt Hill Bridge in Dallas, Texas, and his largest project, the City of Arts and Sciences and Opera House in his birthplace, Valencia.
At the beginning of the 1990's, Calatrava built several remarkable railway stations and bridges, but broadened his portfolio by designing a wider range of structures, including a Canadian shopping center, a new passenger terminal for Bilbao airport, and his first building in the United States, the new structure of the Milwaukee Art Museum. In 1992, he completed one of his most picturesque and sculptural works, the Montjuïc Communications Tower in Barcelona (1989–92), a 446 ft-high graceful concrete spire designed for the site of the 1992 Olympics.
When Santiago was questioned about is passion and drive working in his field, he commented, "I was determined to put to one side all that I had learned in architecture school, and to learn to draw and think like an engineer. I was fascinated by the concept of gravity and convinced that it was necessary to begin work with simple forms. Calatrava explained that he was particularly influenced by the work of the early 20th century Swiss engineer Robert Maillart (1872–1940), which taught him that, with an adequate combination of force and mass, you can create emotion."
Source: Wikipedia – The Free Encyclopedia