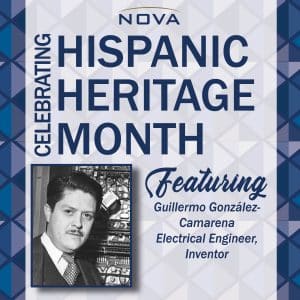 October 6, 2023
As we continue honoring the rich cultural, historical, and social contributions of Hispanic and Latinx Americans, this week's highlight is focused on Guillermo González Camarena (1917 – 1965), a visionary Mexican engineer, and inventor. González Camarena's fascination with electronics began at an early age. His passion for this field led him to make significant contributions to the development of color television, where he left a huge mark on the world of communication and technology.
In 1934, at the age of 17, he designed and built a color television transmission system, an achievement that showcased his remarkable talent and potential. His invention, known as the "Chromoscopic Adapter for Television Equipment," was capable of transmitting color images over television waves. This breakthrough innovation laid the foundation for the color television technology we use today. In 1940 he patented his color television system both in Mexico and the United States, marking a milestone in the history of television. He received widespread recognition for his contributions to the field of electronics.
González Camarena established his own television station, XHGC-TV, in 1946, making it the first station in Mexico City. His vision for broadcasting was not limited to entertainment; he also used television as a powerful tool for education and social progress. His pioneering work in color television technology paved the way for future innovations and revolutionized the way we experience visual media. Today, he is remembered as a source of inspiration for aspiring inventors and engineers around the world.
Sources: Inventionland.com; WallofScientists.com