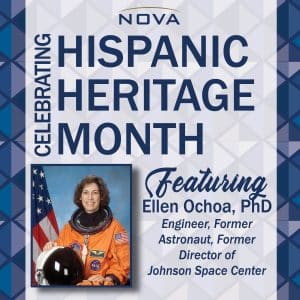 September 29, 2023
The beauty and strength of America lie in its diversity. Hispanic Americans who have made significant contributions to the country and the world, therefore we excited to step into outer space for this next feature.
This week we're highlighting Ellen Ochoa, PhD, (born May 10, 1968) in Los Angeles and raised in La Mesa, California. Ellen was the first Hispanic woman in space. After earning her doctorate in engineering from Stanford University, Ochoa joined NASA in 1988 as a research engineer and was selected to be an astronaut in 1990. Her first mission in space was aboard the shuttle Discovery in 1993. She went on to serve three more missions, spending almost 1,000 hours in orbit. Ochoa was the 11th director of the Johnson Space Center and the center's first Hispanic director.
Ochoa received a bachelor of science degree in physics from San Diego State University and graduated Phi Beta Kappa in 1980, before earning a master of science degree and a doctorate from Stanford Department of Electrical Engineering in 1981 and 1985, respectively. During her time at San Diego State University she found that she loved physics, math, and engineering; ultimately, deciding to major in physics and electrical engineering from Stanford.
As a researcher at Sandia National Laboratories and the NASA Ames Research Center, she investigated optical systems for performing information processing. She patented an optical system to detect defects in a repeating pattern and is a co-inventor on three patents for an optical inspection system, an optical object recognition method, and a method for noise removal in images. Her historic firsts put her in great company with other pioneering women who changed the world.
Sources: Readers Digest Online; Wikipedia The Free Encyclopedia