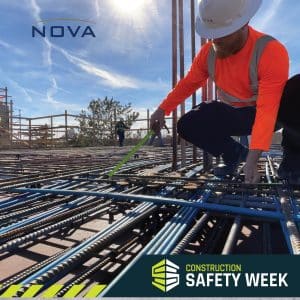 May 3, 2023
Don't be so shocked that May is National Electrical Safety Month. At NOVA, we adhere to all safety requirements and follow safe work practices and procedures. In the month of May, we want to shine a light on how lockouts and tagouts (LOTO's) protect workers from all possible energy sources. In a lockout, an energy-isolating tool or disconnect switch is placed in the OFF position and locked. In a tagout, components that power equipment and machinery, such as switches, are placed in a safe position and a written warning or tagout device is attached to them. Failure to follow NOVA's LOTO procedures can result in a serious injury or even death. A few important things to remember about electrical safety are:
Never use metal ladders near any source of electricity.
Use three wire extension cords and protect them from getting stepped on or run over, never use damaged cords, make sure that outlets and plugs are grounded.
Always inspect power tools before using them.
Additional Resources:
IEEE C2-2012, National Electrical Safety Code.
OSHA 29 CFR, Part 1926, Occupational Safety and Health Regulations for Construction.