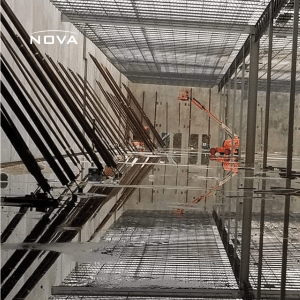 May 17, 2023
So many fascinating things go on behind the scenes at construction sites and we're so thankful for photos that capture those unique moments. The photo featured in this article was taken by one of NOVA's building inspectors as he was secured in a scissor lift and ready to perform welding inspections. What exactly is he inspecting? Read on to find out!
This particular job site included the use of tilt-up walls. Tilt-up construction features a series of concrete panels tilted up into place to form a building's exterior wall. These panels are created at the work site using wood forms, rebar, and concrete. The forms are shaped and rebar cut to match the final designs. Next, concrete is poured into the forms and finished. When the walls are ready, they're tilted into a vertical position and set on foundational footings where they form the external structure of the building. Each panel is temporarily braced until the roof ties the structure together.
On job sites like this, NOVA has experienced staff that can provide critical inspection services. Our staff will inspect weldings for panel to-panels, metal joists weldings to bearing points, and I-beams to columns connections. We also inspect reinforcement, embeds, and lifting points in the tilt-up walls before they are poured. These services are so very critical to ensure any hazards are avoided that could cause danger to the construction crews and future occupants of the structures. Thank you NOVA staff for "tilting" the way to ensure safety for us all!
Photo credit: Francisco Boza, EI, Building Inspector, Fort Lauderdale, FL