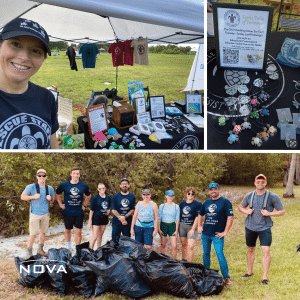 April 25, 2023
We'd like to thank everyone who took the time to participate in Earth Day activities. NOVA's Fort Lauderdale and Tampa, Florida staff spent the day making the world a little greener.
Fort Lauderdale team member, Natalie Foresman, participated in the City of Plantation's Earth Day event that boasted a local farmer's market, tree giveaway, kids activities, and featured local environmental organizations. Natalie shared information about the protection of sea turtles and the Sea Turtle Oversight Protection volunteer group. The group's special mission is to highlight the many ways the community can do their part to protect our little friends.
Michael Kennedy, our Tampa team member, participated in the Port Tampa Bay Great Port Clean Up Day in the mangroves. This event is a call to action for the port community to support the ongoing efforts to keep Tampa Bay a beautiful place to live, work, and play. During this event, port partners and other dedicated community volunteers safely remove trash and marine debris from several sites in and around the port.
Great job NOVA team members for doing your part to save and protect our planet!