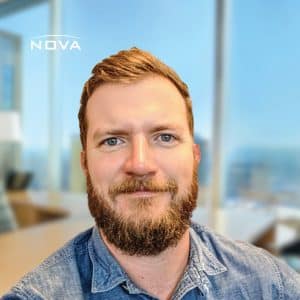 August17, 2022
We'd like to formally introduce the newest addition to the team in Raleigh, Dillon Nance, PG! Assuming the role of Project Geologist, he brings 7 years of subsurface exploration knowledge to the group. Welcome aboard, Dillon!
Dillon's industry experience includes the management of geotechnical subsurface exploration programs including the coordination of subcontractor services, drilling and sampling.  His office skills include laboratory testing of soil and rock, developing boring logs, preparing geotechnical reports, and client development.  Other competencies include geophysical investigations using near surface geophysical methods. Dillon earned a Bachelor's in Geology from North Carolina State University, then supplemented his degree with Graduate Studies in Structural Geology.
This Geologist is blessed with a growing family.  Dillon and wife Carina have a 21-month-old son, Felix, and a daughter coming in early October. When not playing in the dirt, some of his favorite pastimes are mountain biking and disc golfing. Rumor has it, he has some serious homebrewing skills as well!
Congratulations on your move to NOVA, Dillon!  Join us in extending him a warm welcome at 828-447-9068  or dnance@usanova.com.