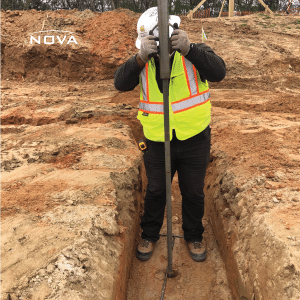 April 18, 2023
Featured in this photo, NOVA's CMT Staff Engineer is performing an evaluation of a shallow foundation using the Dynamic Cone Penetrometer (DCP) testing method. The Dynamic Cone Penetrometer (DCP) consists of a steel rod, a standard weighted hammer, and a conical tip. The hammer is dropped from the top of the rod and the number of blows are measured. The DCP provides a field test method for evaluating the in-situ load-bearing capacity of the foundation subgrade by measuring the penetration resistance into the subgrade.
An advantage offered by the DCP is its ability to penetrate underlying layers and locate zones of weakness. The DCP can be used to evaluate the load-carrying capacity at various layers of the subgrade soils. Upon completion of grading on a construction project, engineers can use the DCP to evaluate the stiffness and uniformity of the subgrade. By understanding the load-bearing capacity of the soil beneath the foundation, engineers can make recommendations, if needed, to improve the bearing capacity for the shallow foundation.
The DCP is a quick test and can be done in the field to evaluate a foundation subgrade as part of the special inspection requirements. By performing this test, better performance and fewer premature failures are avoided, saving money because less maintenance and remediation work is required. Using the DCP, engineers can estimate undercut quantities for the remediation of unstable or unsuitable subgrade soils, which can reduce change orders during construction.
Photo Credit: Clement Asuquo, Staff Engineer, CMT Services, Locus Grove, GA