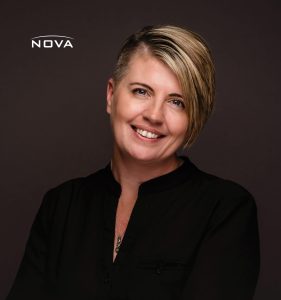 January 5, 2022
Exciting things are happening in our Orlando office!  Desiré Mahanna has recently been promoted to Business Unit Manager.  Having been with our firm for over 3 years, she consistently shines and impresses us with her industry knowledge and skill.  Way to climb that corporate ladder!
Insight from Desiré: "NOVA's culture is one that promotes professional and industry growth both on a personal and corporate level.  It's truly been my honor to be a part of the NOVA family and to help develop and grow our business in the Orlando region.  My personal success with NOVA is a direct result of having remarkable leadership and an impeccable team of staff around me.  You're only as good as those you surround yourself with and I am very fortunate to have the best in the business on my team and look forward to continued success and growth for all."
Desiré's life outside of NOVA is dedicated to her 2-year old granddaughter, Charlotte.  The sun rises and sets with this little girl; she is truly the apple of Desiré's eye!  Also included in her blessings are her 3 children, her husband Brandon and we can't leave out her 6 felines.
Taking time out of her busy schedule to help within her community is also one of Desiré's passions. She has taken a stand and fights hard for black bear awareness in the Wekiva Basin area.  An idea about how to best raise funds for bear resistant trashcans, turned into the successful planning of a 5k – The Black Bear Romp.  At the end of the event, 36 amazingly generous sponsors and almost 350 runners raised $16,000 toward getting trash cans for families in Wekiva Basin!
Join us in congratulating Desiré at 407.462.6995 or dmahanna@usanova.com.