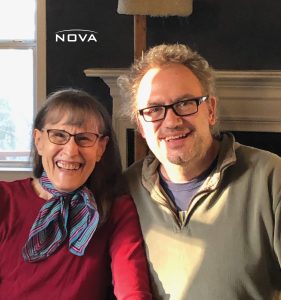 February 15, 2022
20 years equates to 7,305 days – 175,316 hours – 10,520,00 minutes and LOTS OF LAUGHTER!!!!  Happy NOVA anniversary, Wayne Shelburne.
You have stood together with us during all the ups and downs. Thank you for dedicating 20 amazing years of work to our organization.
Wise words from Dr. Wayne:
"In the 21st century, I still find it odd that I found a job through a newspaper. I was living with a friend of mine in East Cobb, and my jobs were to play with his dog during the day and put the Atlanta Journal Constitution in the recycling bin. He didn't pay for it, but for some reason they still delivered it. I had moved down here from the great state of Massachusetts in the summer of 2001. I spent a lot of time on my computer, doing all the typical job search stuff, as well as friends from graduate school signing me up for job interviews. I even had a friend from UMass get me an interview at GeoHydro, oddly enough, which ultimately didn't work out. I eventually took one of the AJCs and, before throwing it in the recycling bin, pulled out the Career Finder section. I found an advertisement for NOVA, who was looking for someone to help with their one person doing Phase I ESAs. So I interviewed. I didn't get the job, but they asked me to come back, as they were also looking for someone in the Geotechnical Group. So I interviewed again, and got the Geotech job.
20 years, one wife, 15 cats (formerly 16), and one pandemic later, and I'm still here. NOVA was one of the first places I got a job where I didn't know anybody, which was strange for me at the time. But I stuck it out. I started dating Carolyn a few months after I got my job, and we're now married. She's stuck it out, as well, and it hasn't always been easy- long hours, lost weekends, lots of stress, several stints in Charlotte, North Carolina, to say the least. But she stayed by me, for which I am eternally grateful. Most of the NOVA upper management have been here, as well. Dave Miller and Randall Bagwell, to name a couple, who have stuck by me the whole time, to whom I am thankful for their support, knowledge, and discussions of the AFC East.
Despite the stress and long hours, I have to admit that overall, I've enjoyed my time here. I've been able to work with a lot of really talented engineers and have learned a lot about engineering. I have met and worked with a lot of non-engineers and have learned a lot about things non-engineering. I've worked on a lot of fantastic projects, from prefabricated metal storage structures to million square foot warehouses to entire communities to sports complexes to hospital campuses, etc. It's the ever-changing people and ever-changing projects that have kept the job mostly enjoyable for the last 20 years and make me look forward to another 20."