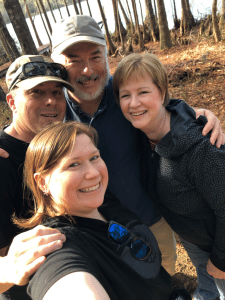 December 30, 2021
Ann is one of our many exceptional employees. We are truly blessed to have her on our team.  Thank you, Ann, for all you've done to help grow our firm. Happy 15th to you!  A few words from Ann, about her time at NOVA and her personal life:
"I was born and raised in Mississippi until Florida came calling 16 years ago.  When I started working for Will, NOVA's Panama City Beach office was only 2 years old. I began to grow this area by reaching out to multiple clients, since at the time it was all about condos. Of course, that bubble burst quickly after I started, so diversifying our client list was the way to go. Since then, I have helped open the Pensacola office and then the Tallahassee office. Currently my territory is anything west of the Apalachicola River which includes the Panama City Beach and Pensacola offices.
My husband will tell you that I never turn off work. Don't let me see a client out somewhere because I'm going over to ask them for work on their next project!! I love to bake and for many, many years I've treated our clients to homemade chocolate chip Bundt cakes. One time, several years ago, I baked and delivered 72 cakes within the month of November. We were thankful at Thanksgiving but I'm never doing that again!! Now they are delivered throughout the year. I love my clients!
My hobbies include cooking, reading recipe books and of course baking. I'm very involved with my Rotary Club and have been the program chair for the past 16 years. I love this role and being involved with the many projects my Club does for our community! We're in between churches now but hope to find a new home soon. 
David and I have been married 36 years and I have two grown stepchildren."